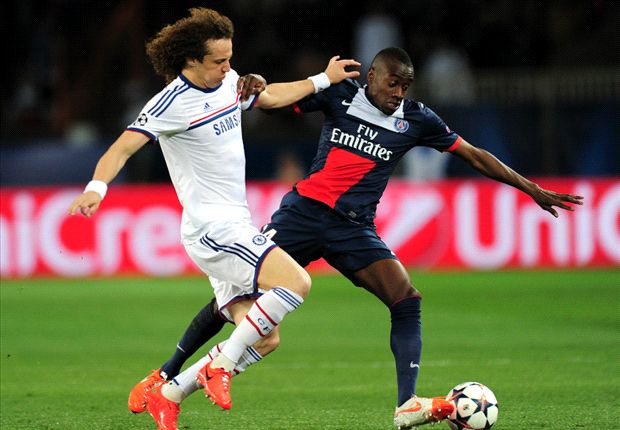 Chelsea are in advanced talks with the Ligue 1 champions to sell the centre-back, who has fallen down the pecking order under Jose Mourinho, ahead of the World Cup
David Luiz is on the brink of sealing a sensational €49 million move to Paris Saint-Germain. Chelsea are in advanced talks to sell the defender to the French big spenders and the deal is expected to be finalised before the World Cup.
PSG have swooped for the Brazil international to fend off interest in Luiz from Barcelona, who are now likely to turn their attention to his international colleague Marquinhos. The 20-year-old, who only joined from Roma last summer, is likely to leave Paris as a result of Luiz's imminent arrival.
Chelsea manager Jose Mourinho has given the green light to the departure of Luiz, who was forced down the pecking order at Stamford Bridge following the arrival of the Portuguese, who preferred the John Terry-Gary Cahill partnership at the back.
A fee of approximately €49m has been agreed with the French champions, and Luiz, 27, is preparing to interrupt his World Cup preparations to fly to Paris to finalise terms and undertake a medical.
The deal represents a huge flexing of PSG's financial muscle, with the fee a world record for a defender, eclipsing the €43m the club paid AC Milan for Thiago Silva two years ago.
It is the third significant profit Chelsea have made on a player this year who has not been a first-team regular under Mourinho.
Juan Mata joined Manchester United for £37.1m in January, shortly after Kevin De Bruyne moved to Wolfsburg for €18.5m.
With Luiz also handing Chelsea a transfer profit of around €18.5m, the Londoners are well placed to fall in line with Uefa's Financial Fair Play regulations.
Money has also been freed up for Mourinho to purchase his primary targets, including striker Diego Costa.
A €43m deal for the Atletico Madrid star has already been agreed
and is expected to be finalised shortly after the Spanish club's participation in Saturday's Champions League final.
Follow GistaNaija on Twitter
@GistaNaija
and Facebook
GistaNigeria
Weird Stories
|
Weight Loss & Fitness Tips
|
Small Business Guide
|
Infotech Arena Tech News